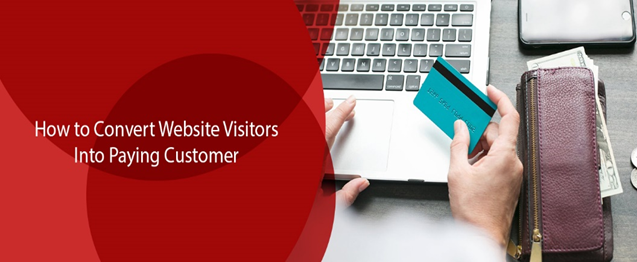 How to Convert Website Visitors Into Paying Customers
It may seem you are doing everything right. Your website attracts a decent volume of online traffic from PPC ads, email marketing, and social media. However, despite all this traffic, very few visitors end up buying anything from your website. To get the best online experience, subscribe to AT&T bundles.
According to research, the average conversion rate of the e-commerce industry as a whole is just 2.86%. This means that for every 100 website visitors, you should have two paying customers at the very least. However, high-performing websites can get this up to 5%. If you are struggling to get your conversion rate up, you may be making the following errors.
You Don't Have Good Landing Pages
Just having a company info page and a list of products and services will not work for your website. Whether you rely on email campaigns or PPC ads, your landing pages need to be tailor-made for your products and services.
You should have separate pages for your ads and products. This will allow you to do A/B testing to check which page performs better. It is not easy to create the perfect landing page. You need to have the right colors, the right messages, and perfect CTAs. However, when you see an improvement in the conversion rate, you will realize the effort you put in was worth it.
You Don't Have Good Calls-To-Action
You may have included lengthy product and service descriptions on your website. However, you need to make sure you communicate to your readers why they should buy from you. A CTA is not just meant to remind people you are offering something for sale. They also provide a purpose to use your products and services.
When someone decides to purchase something online, the worst thing that can happen is that they struggle to find the purchase button. You don't want them scrolling through your website and not being able to find the purchase link. This is where CTA buttons can help. It will be better to have them easily accessible and visible. Their color should also contrast with the background of the webpage so they can stand out.
Your Website Is All About You
"We are the best," "we are committed and reliable," "we are top specialists in our field," and "our products are 100 percent organic."
Do you post such statements on your website?
If you do post such statements, you need to alter them at the earliest. People get exposed to numerous ads online every day. You wouldn't want your website to be viewed as a platform for posting annoying ads. Instead of focusing on yourself, shift the focus to the benefits that can be derived from using your products and services. Here is how you can do that.
Instead of saying "We are the best," say "Work with the finest team in town."
Instead of saying "We are committed and reliable," say "Your orders will get delivered without delay."
Instead of saying "Our products are 100 percent organic," say "Protect the environment and your health by using organic products."
Making these changes will help buyers identify benefits immediately. The benefits have already been spelled out so your buyers won't waste time figuring them out. This will make it easier for readers to make purchase decisions.
Your Website Lacks Testimonials or Social Proof
Unless you are already a household name, you will not be seen as credible. Your products and services can be used as an indicator of your credibility.
You can use online reviews to help your website become credible. According to research, 88% of consumers place as much trust in online reviews as recommendations from family or friends. Do the following to build your credibility online:
Testimonials – make sure they are placed prominently on your website.
Online reviews – users post reviews on websites and social media networks like TripAdvisor and Yelp. Add plugins or links to these platforms on your website.
Case studies – request your most loyal customers to describe in detail how they benefitted from using your product or service. After creating case studies you may send them through email or give an option for downloading on your website.
Feedback in the form of reviews and testimonials will help draw traffic to your website. It will also increase the credibility of your website and your loyal clients will be more than willing to provide this feedback.
Summing Up
To help convert website visitors into paying customers, you need to provide them with an excellent user experience, just like AT&T Internet. Offer them relevant content, easy navigation, and fast cellphone responsiveness. All this will lead to an improved conversion rate. The best thing about all this is that it can all be done without making any significant monetary investment.