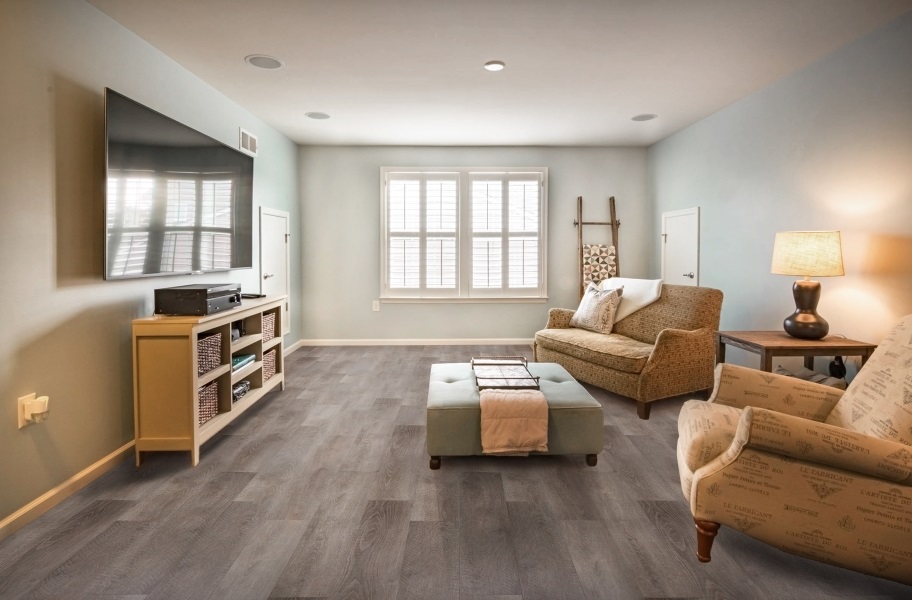 Laminate flooring – an excellent construction illustration
Laminate Flooring is a synthetic product made of several layers that are sealed together in the flooring installation process. Laminate flooring consists of four distinct components as they are designed to be affordable and durable.
In laminate flooring, the wear layer helps resist scratches from daily wear, help creates an easy-to-clean surface, and maintains a fade- and stain-resistant appearance.
A laminate flooring décor layer is a printed image that recreates the natural look of wood, tile, or stone.
The core layer gives laminate flooring its structure and dent-resistant properties. This flooring installation is much more resistant to dents than real hardwood flooring.
The final backer layer provides additional support and stability.
Features of laminate flooring
Laminate flooring is a great choice for high-traffic areas and is very durable, especially for living rooms. But today's laminate flooring installation isn't limited to specific rooms. The style and detail of laminate make it a visually appealing flooring option. The waterproof property of this flooring allows it to be used in kitchens and even bathrooms. for basements, this laminate flooring is also a great choice. You must be sure to read the product information on underlayment and installation requirements. It has been seen that there are many laminates flooring planks that can be applied to interior walls. You must be sure that the wall where you want to install should be clean and dry, plumb and stable.
Things to Know About Laminate Flooring
Consider these key features to help you choose the right laminate flooring for your home.
laminate is thick flooring
Laminate flooring is typically available in different thicknesses. Keep in mind that some manufacturers include the thickness of the product when comparing laminate flooring that includes the core and attached pad. All laminate flooring installations provide a similar level of dent resistance. Thicker laminate flooring installation is better suited to resist bending caused by uneven areas in your subfloor and reduce noise.
-Width – laminate flooring planks vary from fewer inches or more inches wide.
-Finishes – You can choose from a seemingly endless list, including cherry, chestnut, hickory, maple, oak, pine, and walnut.
-Texture – laminate flooring installation is available in many types of textures and finishes to simulate the look of real hardwood flooring.
Natural look of real hardwood flooring
A general, all-over texture, laminate flooring installation better simulates the natural look of real hardwood flooring by adding depth and texture in alignment with the design of the décor layer.
laminate is the real hand-scraped hardwood floor
Though not actually hand-scraped, this laminate flooring is pressed to look just like a real hand-scraped hardwood floor.
This smooth, high-gloss laminate flooring features a mirror finish and resists scratches and dents.
Underfloor Heating with laminate
Not all underfloor heating can be used with laminate flooring installation. For laminate compatible systems, you may need to embed the mesh in a thin set or self-leveler before installing the flooring.
Waterproof laminate flooring installation
This feature is also available in this flooring. To be waterproof. Water resistance usually means moisture needs to be cleaned up within 30 minutes.