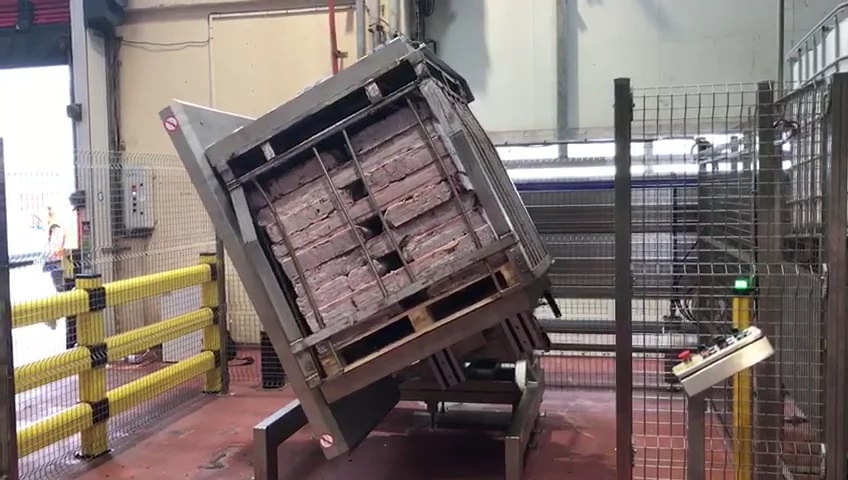 Pallet Inverters Versus Pallet Tilters – What's The Difference?
Inverting and tilting are two methods suitable for drums, sacks, and overhanging goods. It means the goods are unstable and not too sensitive. Both methods nearly replicate one another, so can be cited in the same way. Pallet changers that use the tilting method are called pallet tilters, while the machines using the inverting method are popular as pallet inverters.
Key difference between Pallet inverters and Pallet tilters
Pallet inverters rotate goods at 180°. It means the loaded pallet is rotated upside down.
Pallet tilters turn loaded pallets backward up to 95° to 120° only.
Pallet inverters have three-sided walls that hold the goods and rotate to 180° and pallet is exchanged easily.
Pallet tilters have two side walls that hold the goods and incline them in reverse up to 120 degrees and the pallet is exchanged effortlessly.
In pallet inverters, after 180-degree rotation the original pallet lies on top and is easily replaced with a new pallet and rotated back to its original position.
In pallet tilters, two side walls with top plate hold the goods tightly and tip them back up to 95-120 degrees. The original empty pallet is moved down and replaced with a destination pallet at floor level. The machine is swiveled with the goods in its original position.
Pallet inverters turn around to 180 degrees, which allows removing damaged goods from the stack's bottom layer, and the entire stack is rotated to its normal position.
Top Industries offer the turning and tilting processes as stand-alone machines, as well as clients, can have them customized for integration into the material flow systems. The pallet inverter and tilter can be loaded & unloaded with a forklift and pallet truck.
Titling pallet changers are even available without pallet clamps and side walls. It is ideal for tilting-resistant products. These machines need low maintenance and the operating noise is low. Tilting machines can process goods with different heights and varying pallet sizes. You can even benefit from the different centering options made available. The adaptive centering system ensures proper product alignment after pallet changing. For tilting machines, there is a loading table available equipped with a lifting mechanism.
For inverting method, there are pallet changers available for uncomplicated palletizing. The rotating pallets are available in different dimensions and capacities. You can change from 40 to 100 pallets within an hour depending on the model you chose. You get to choose from stationary, portable, semi-automatic, and fully-automated pallet handling systems.
Pallet inverters are essential in industrial facilities or warehouses because they have to abide by hygiene regulations, ship cheap pallets, or streamline the supply chain.
Top Industries focus on safety and efficiency. They sell premium-quality pallet exchanges and offer outstanding customer service. You can visit their official YouTube account to see videos about how their pallet changers using the tilting and inverting methods operate.
You can even give the technicians a call to gain more details about their product's safety features, load capacity, and productivity levels.